The Swag is in the Bag
Well actually, it is the bag. Let's face it people, we have a lot of stuff to carry. I mean, we literally have a lot to carry. Both men and women alike, at any one time, are toting around tablets, cell phones, laptops, wallets and the like. And do I need to remind you to add to that list your groceries? In more and more cities, local governments are enacting ordinances banning plastic bags and encouraging consumers to bring in their own grocery bags - saves a nickel every time don't 'cha know!
From a branding perspective, all this toting around, is great news. Whether your client transports their groceries home in a grocery tote with your logo on it, or carries their tech gear in a nifty laptop messenger bag subtly sporting your logo, embellished bags are both affordable and effective advertising that will get your brand noticed – and remembered.
Swag Facts Of course you know here at IBD we're not just about the swag – we like the facts too. Check out these bullet points* and tell me you don't want to get something going with your logo on it:
Tick Tock – Test of Time Non-Woven Totes & printed bags are kept on average 7 ½ months.
Memorable At nearly 5,800 impressions generated by these bags in their life span – your brand can't help but be noticed – and remembered.
Business Booster It's a fact, after receiving a promotional bag, 40% of recipients are more likely to do business with the advertiser.
Touch Feely 52% of recipients of promo bags feel more favorable toward the advertiser.
Good Spend Funneling your advertising dollars towards promo bags, on average, costs you just 0.6 cents per impression. That's 6 tenths of a penny people!
Fashion, Form, Function We're Excited - The increasing popularity in bags among consumers forces the swag industry to mimic retail trends. That means your local IBD Swag Coach can hook you up with all the latest style trends as well as the basics. From chic woven totes and hipster messenger bags, to sports bags and backpacks and everything in between. We've got all the brands too – Soapstone, Brenthaven, Ogio, Tumi, Victorinox, Canyon Outback… the list goes on and on. Looking for basic function? We can do that to: take a gander through our very own IBD website and see for yourself.
Materials and Decoration Virtually any material is available in a promotional bag: – non woven polypropylene, nylon, polyester, poly cotton, cotton canvas, leather, vegan leather, vinyl and of course good old paper and plastic. Looking for something with less of an ecological impact – we've got bamboo and organic too.
Now, let's decorate these bad boys. Depending on the type of bag you select to market your brand, we can decorate appropriately with every method available: spot color screen print, full color digital transfers, deboss and of course, embroidery. Looking for a more retail look, something more subtle perhaps? We've custom patches, metal plates, domed medallions and even raised silicon heat transfers. Our coaches can help you match the right embellishment to the right bag.
Bottom Line? Bags, whether you choose a grocery tote, messenger bag, sling bag, cinch pack or or one of our fabulous fashion totes (shoot we can even but your logo on this sweet diaper bag), a Promotional Bag is a simple and impactful way to market your brand. I ask, are you using bags to promote your business?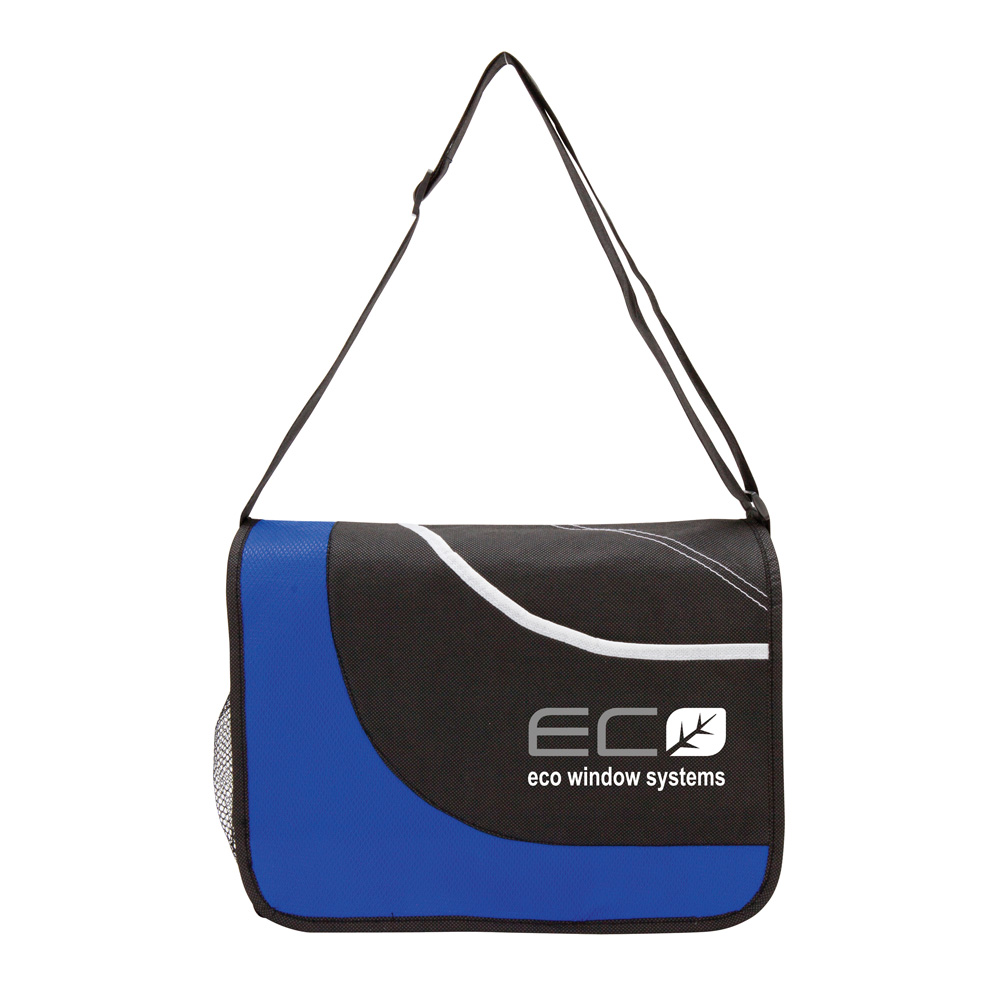 *Bullet Points courtesy of ASI Global Advertising Specialties Impressins Study 2014 via Bagmakers